Garage Car Lift Installation In Michiana
Do you want to instantly increase the amount of space available in your garage? Our garage car lifts are the ideal solution.
We proudly provide Atlas® car lifts, which are high-quality 4-post lifts. They are ideal if you want to work on your vehicle or simply double your garage's vehicle capacity without resorting to a costly renovation or off-site storage.
We provide a premium solution but competitive pricing. These car lifts are superior in every way to the economy lifts you'll find being sold in many places online. Even better, the car lifts come with a 2 year limited warranty for your peace of mind.
The Atlas® Garage Pro 8000 has polyurethane wheels for portability, and it comes with a caster kit that you can install or remove in minutes without the need for tools. It has an 8,000 lb. capacity and an attractive powder coat finish.
This is designed for home use rather than in a commercial repair shop, but if you have any doubts about its usage, just ask.
Take a look at the images below to get a better idea of how this car lift will look in your Michiana garage.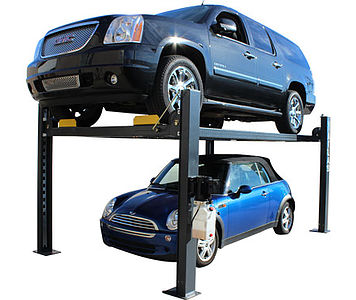 Atlas® Car Lifts Key Features:
8,000 lb. capacity
Atlas® powder-coat finish
CE tested and approved
Includes approach ramps
Includes drip trays
Includes heavy duty jack tray
Includes wheel stops
Lock ladder column design
Motor mounting configurations
Special bends in columns
Wider access between runways
Hidden cables in cross tubes
Single point lock release
Lock ladder design
Double lock safety system